The 8" Super Xmax Woofers
SX8.0-1.2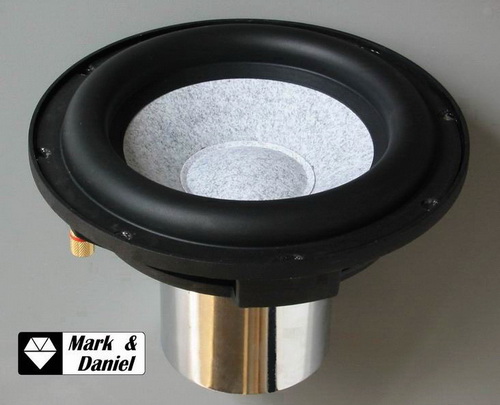 This 8¡° woofer with Mark & Daniel patented SX technology has an amazing 48mm long magnetic field created by very large amount of NdFeB magnets. The high efficiency ribbon copper voice-coil in 18mm length is wired onto a 250¡ãC grade ¡Ó51mm TIL glass fiber former, yields a terrifying ¡À15mm (1.2¡°) linear excursion! Compare with the most of 8¡± conventional woofers which normally having an Xmax figure no greater than ¡À5mm. M&D SX-8.0-1.2 to the case, can drive 9 times (9.5dB) acoustics power over the same sized woofers to the deep bass end!
A die-cast aluminum frame, Du Pont Metamax durable damper incorporate with ultra-large rubber surround, very tough compound paper cone and dust cap, have been employed for the SX series woofer to proper handle this stunning dynamics; yields an outstanding bass control and 86 dB/2.83V/1m at 4 Ohms in efficiency, and over 150 Watts power handling. Every detail has been painstakingly taken cared of with the finest materials available. The SX8.0-1.2 unit is definitely rigid and heavy, each weights up to 3.8 Kg (8.4 lb).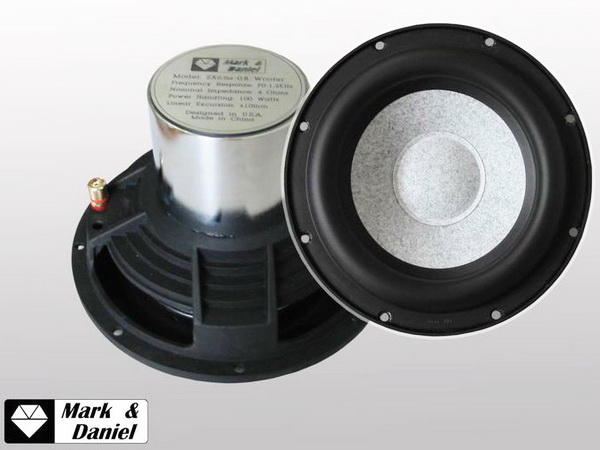 SX8.0-1.4
The SX8.0q-1.4 woofer has been specially designed as the subwoofer driver and the SX8.0a-1.4 is specially designed for hi-fi woofer on the Fantasia-S and Aragorn+ speakers; with M&D¡¯s unique QMA (Quantified Magnets Alignment) design and having 20% excursion improvement over the original SX8.0-1.2 woofer, an unprecedented ¡À18.0mm (1.4¡±) of Xmax cone excursion has been achieved on this unique driver to reproduce the sufficient sound pressure under sub-bass frequencies.