Maximus-Opal-Mk2
Powered Active Speaker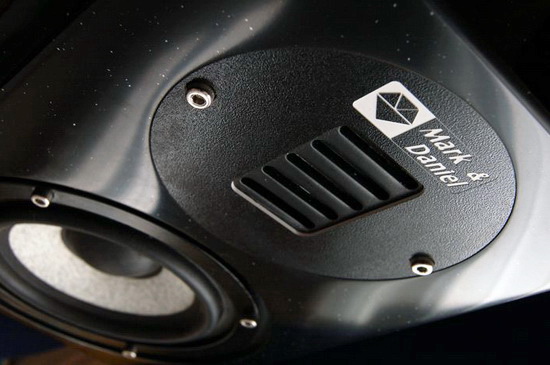 Joining our highly acclaimed Maximus family of loudspeakers, the Maximus-Opal-Mk2 powered active speaker has combined Mark & Daniel¡¯s hereditary dynamics and musicality from such a compact enclosure as a handy studio monitor for home hi-fi, AV multichannel, and music professionals. Maximus-Opal-Mk2 may applicable in many occasions such as for restaurants, hotels, banquet halls, bars, clubs, schools, gyms or even houses of worship; it is also perfect for music lovers and sound engineers who opt for easy accessing to ease of operation, versatility and portability, as well as high cost-performance value and widened applications!
The Maximus-Opal-Mk2 enclosure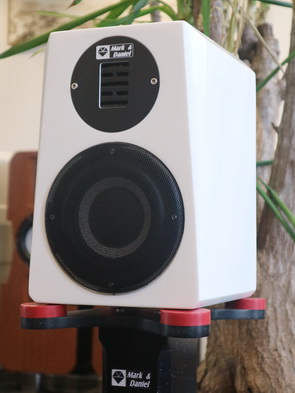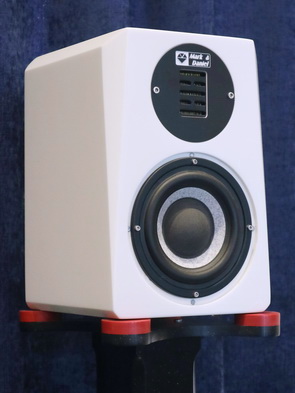 - The Maximus-Opal-Mk2 is a 2-way bookshelf speaker housed in a seamless artificial marble enclosure completed with built-in high quality bi-amp module that mounted on the back panel.
- Mid-to-high frequency driver is M&D's new modular DM-6b Dreams widebander which covers an exceptionally wide audio range from 950Hz up to 30KHz. This enhanced Air Motion Transformer (AMT) is capable of reproducing a 5-octave bandwidth with superb details and impressive dispersion characteristics.
* DM-6b AMT driver: http://www.mark-daniel.com/index.asp?Proid=27&table=sdr
- Below 950Hz, the Mid-to-low frequency is covered by the HX5.5-0.4 woofer which has a ¡À5.0mm high linear excursion characteristic. Outstanding performance excels on three critical fronts from such compact enclosure: high amplitude (under high SPL output), very low frequency (down to an amazing 48Hz), and sustainable Q-control (along with the complete excursion range).
* HX-5.5 woofer: http://www.mark-daniel.com/index.asp?Proid=29&table=sdr
- The Maximus-Opal-Mk2 handcrafted enclosure is made of compound marble (CAM) measures only H29 cm (11.4¡°) xW18 cm (7.1¡±) xD22 cm (8.7¡°) and takes on beveled corners to cut down baffle diffraction. This compact high-density rock-solid enclosure each weighs up to 10.5 Kg (23 lb) that vibration and damping control becomes second nature.
* CAM enclosure: http://www.mark-daniel.com/index.asp?ID=9&table=faq
The Amplification Module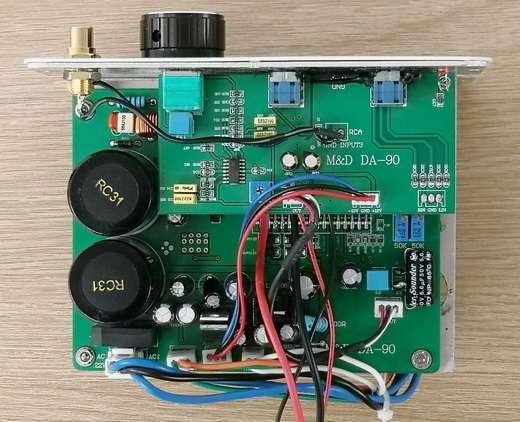 - For audiophiles to fully appreciate the potential of the Maximus-Opal-Mk2, Mark & Daniel has uncompromisingly adopted a bi-amp configuration boasting all high quality electronic components to the amplification module.
* For bi-amp system: http://mark-daniel.com/index.asp?ID=18&table=faq

- To the main PCB of the amplification module, Tripath TA2022 (90Wx2ch) high power chip-set has been employed to get the great dynamic availability and good woofer damping control. Utilizing Tripath¡¯s proprietary Digital Power Processing (DPP) technology, this Class-T digital amplifier IC offers both audio fidelity and power efficiency.

- In order to ensure audio-grade performance through clean power supply and minimized electromagnetic interference, a high-quality R-type transformer has been used for the amplifier module instead of those mediocre switching power supply units.
- A dedicated pre-amp PCB with functional control selectors, 950Hz high-pass/low-pass filters, and level equalization stage have been meticulously assembled to the amplification module.

- In between the output of the amplification module and input of the sound drivers, one additional passive PCB is connected inside each enclosure in order to fine tune the Maximus-Opal-Mk2 for optimized sound performance.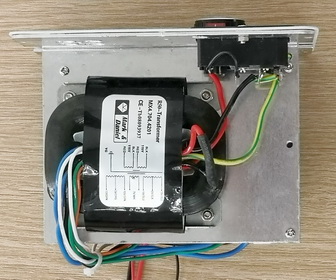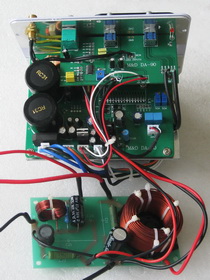 Opal-Mk2¡¯s back panel: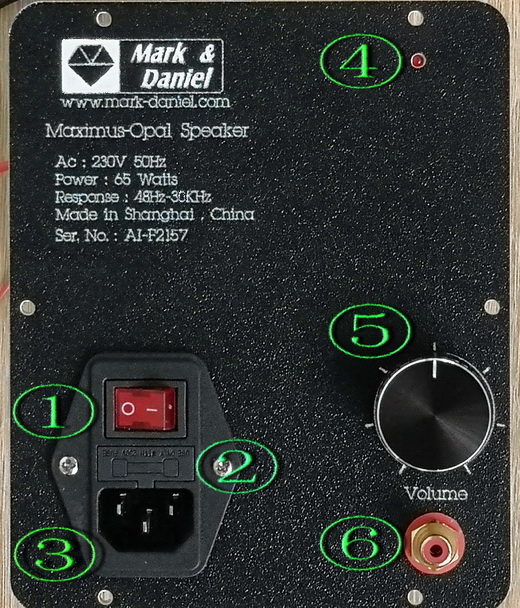 ¢Ù Power Switch: 0 to off, 1 to on.

¢Ú Fuse Holder: 1A or 2A replaceable fuse, when replacing.
¢Û AC Power Plug:
- Must check the local voltage to match with the plate description (AC115V or AC230V) before plug-in the AC power cord; or this amplification module may be damaged!
- Please note the AC power cord has not been included for each Maximus-Opal-Mk2 since the speaker may be used in different countries and different AC power cord length may be needed.

¢Ü LED indication during power on.

¢Ý Volume Control:
- Please note that this Volume Control may not be often accessible once the speaker has been mounted on wall or installed at place. Properly set the volume level position suitable for application needs.

¢Þ RCA input jack.
Very solid and rigid in structure, a high quality steel made, stylish Maximus-Wallset may be helpful for fitting the heavy Maximus-Opal-Mk2 on wall.
* Maximus-Wallset: http://www.mark-daniel.com/index.asp?ProID=92&table=pr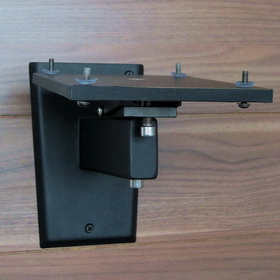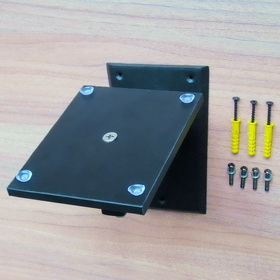 Product Description: Maximus-Opal-Mk2 Powered Speaker
Ref. Price: US$1,400/unit
Standard Colors: - Solid White (Code: MD1002)
- Starry Black (Code: MD1423)
Maximus-Wallset: US$150/pair, optional
AC Power: 115V 60Hz, or 230V 50Hz
Power Consumption: 65 Watts Max.
Frequency Response: 48Hz-30KHz
Two-way Crossover: 950Hz
Enclosure Material: CAM Solid Surfacing
Enclosure Size: H29.0 xW18.0 xD22.0 cm (H11.5¡± xW7.1¡± xD8.4¡± )
Weight (each): 10.5 Kg (23 lb)