Fantasia-Cello Sound System

The Fantasia-Cello sound system is the most advanced high-end floor-standing loudspeaker designed and engineered by Mark & Daniel® employing the best of their pioneering concepts and state-of-the-art technologies. It is a truly exceptional integrated speaker system optimizing musicality, high definition and effortless output capability. This total concept management has elevated the Fantasia-Cello to a new level of sonic opulence and cost/performance ratio.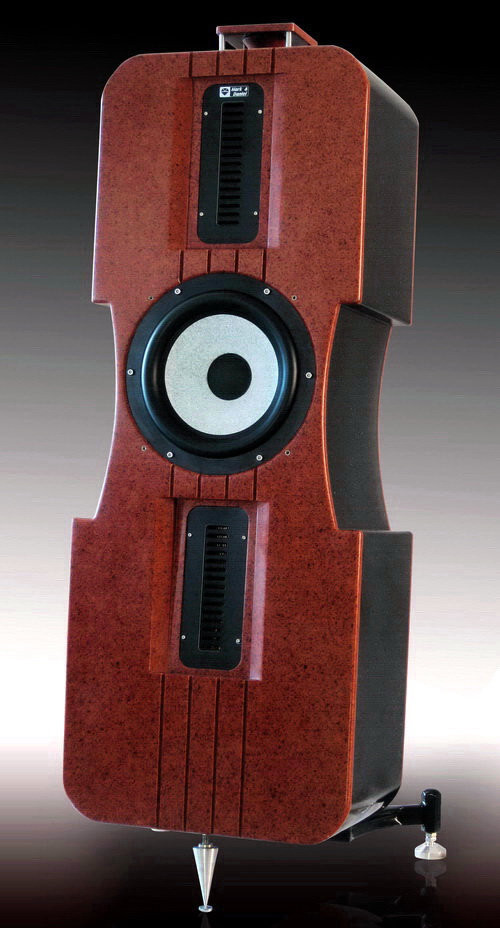 As a logically evolution from the award winning Fantasia-S speaker, the Fantasia-Cello is uniquely crafted with a newly developed full-size enclosure and skillfully re-orchestrated features. The innovative two-way system takes on a symmetrical enclosure boasting one 10¡± Super Xmax woofer and two wideband Dreams Air Motion Transformers (AMT), crowning on top with an omni-directional super tweeter. This two-way-plus design permits the use of one simple crossover at the low 650Hz point, resulting in unprecedentedly low Frequency Modulation Distortion (FMD). The result? Pure, unadulterated high-fidelity reproduction.

* FMD: http://mark-daniel.com/index.asp?ID=18&table=Phylosophy

The mirror-imaged Fantasia-Cello has adopted a D¡¯Appolito array but with a twist. Unlike typical midwoofer-tweeter-midwoofer (MTM) configuration, based on the intrinsic characteristics of their proprietary drivers, Mark & Daniel has boldly reformed the D¡¯Appolito array to an innovative widebander-superwoofer-widebander (WSW) configuration. To make this possible, M&D have yet again perfected their Super Xmax technology.
One of the many unique design genes the Fantasia-Cello has inherited from the family is the sturdy rock-solid enclosure made of costly compound artificial marble (CAM) for solid surface. The unique one-piece enclosure of the Cello speaker is completely hand-made, with every detail painstakingly sculpted, polished and honed. Indeed, the Fantasia-Cello is an amazing work of Art!

* CAM: http://mark-daniel.com/index.asp?ID=9&table=faq


© The dedicated SX10s-1.3 Super Woofer

While most loudspeaker system manufacturers resort to dual woofers as the only viable measure to achieve low frequency augmentation and sound pressure, yet not enough to reach true deep bass extension (below 40Hz) resulted therefore, the necessity of sub-woofers; Mark & Daniel daringly push the envelope of their super woofer design and thereby persistently maintain minimal phase distortion through one single woofer.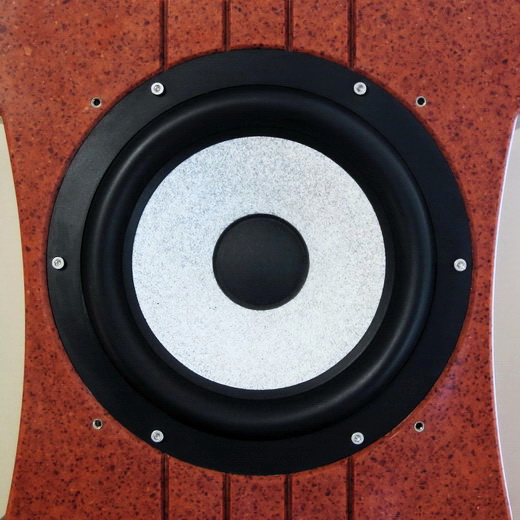 The SX technology coupled with Quantified Magnets Alignment (QMA), plus the huge amount of precious NdFeBd magnets, this new SX10s-1.3 is then a 10¡± super woofer delivering unparalleled linear excursion at the spectacular ¡À16 mm (1.3¡±) mark. It exhibits dynamic bass reproduction with a natural roll-off down to 20Hz without the need of active amplification or electronic equalization. Subterranean low frequencies to reach human ears limit have been unearthed for the first time with a two-way passive loudspeaker system.


* Super Xmax:http://mark-daniel.com/index.asp?ID=21&table=Phylosophy
* QMA: http://mark-daniel.com/index.asp?ID=21&table=faq

© The Cello-shaped Sound Chamber

The SX10s-1.3 super woofer takes center stage on the front baffle of an impressionism-styled cello-shaped bass chamber that enhances its potency as well as musicality. The meticulously proportioned shape is the result of many laborious R&D aimed to minimize unwanted resonance inside the enclosure. The unique enclosure now enables the Fantasia-Cello to deliver optimal bass reproduction in terms of amplitude (under very high SPL output), bass extension (smoothly roll-down to 20Hz) and complete Q-control (throughout the entire low frequency range). The bass is clean, taut and dynamic, perhaps more so than most multi-way/multi-woofer systems.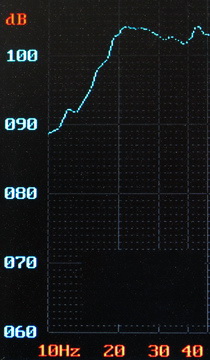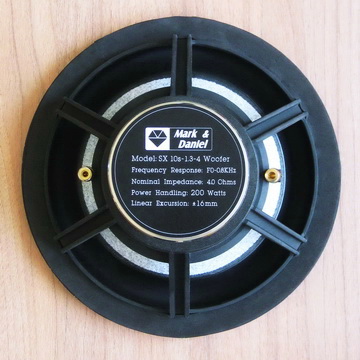 * SX10s-1.3: http://mark-daniel.com/index.asp?Proid=26&table=sdr

© Structural and Cosmetic Details

In order to properly handle the enormous sound pressure created by SX10s-1.3 woofer, this special CAM enclosure has been braced with internal structural reinforcement for sturdiness. On the aesthetic front, Mark & Daniel have exclusively developed a premium cosmetic color, the Majestic Granite (code 2201), for the front/back baffles to embellish its artistic appeal.

The enclosure is elevated from the floor by 10cm (4¡±) in height. This breathing space is necessary for the two vented ports on the bottom of bass chamber. This design, subtle as it may seem, actually facilitates rich, clear ultra-low bass to radiate throughout the audition space with minimal standing wave interference.


© The Dreams AMT Widebander

One striking feature of the Fantasia-Cello is the dual widebanders in D¡¯Appolito array, above and below the super woofer. The two oversized DM-5a Dreams Air Motion Transformers (AMT) are responsible for a wide frequency range of 650Hz to 20KHz, a 5-Octave bandwidth, where music reproduction matters most.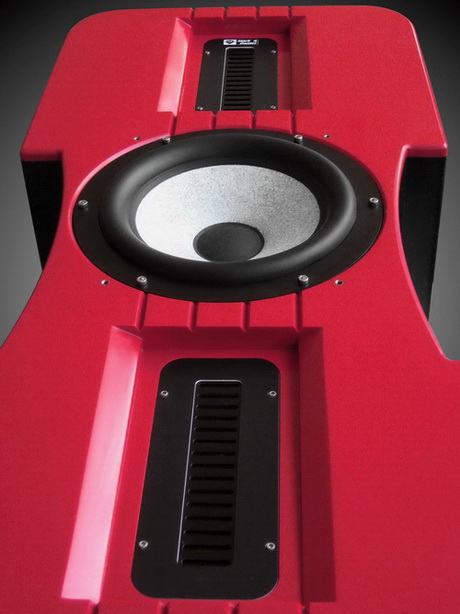 Incorporating ultra-thin (0.0125mm) and super-light polyimide diaphragm with a combined total surface area 170 times as large as a conventional 1¡± dome tweeter, these drivers push air at lightning fast transient speed in full-body volume that matches the real sonic scope and scale in live performances. They are meticulously pair-matched to guarantee perfectly lifelike sound imaging with absolute resolution down to every detail.


* Dreams AMT: http://mark-daniel.com/index.asp?ID=7&table=faq
* DM-5a: http://mark-daniel.com/index.asp?Proid=21&table=sdr


© Immaculate Phase Alignment

The two DM-5a wideband Dreams drivers have been configured to the D¡¯Appolito 3/2 geometry, individually housed in each of their own sealed chambers and vertically center-aligned with the 10¡± super woofer. In addition, these drivers have been installed on different depths to the panel and the lower DM-5a driver is been up-tilted by 3 degrees to achieve a seamlessly and naturally integrated vertical dispersion pointing to listener.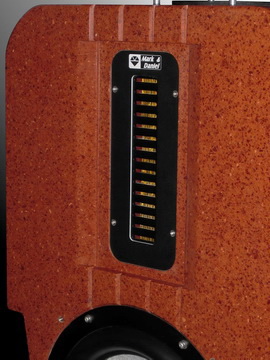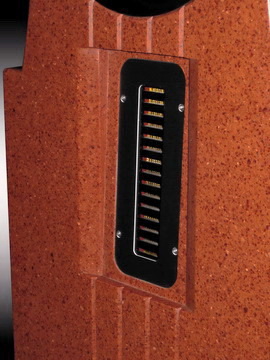 © The Omni-Harmonizer

An acoustics diffusive-cone plus the DM-2a super tweeter housed in its own dedicated sound chamber is installed on top of the cello-shaped enclosure. Capable of ultra high frequency harmonics from 7KHz up to 35KHz, radiating out in 360¡ã sound dispersion pattern, this is an indispensable enhancement to complete the vivid soundscape.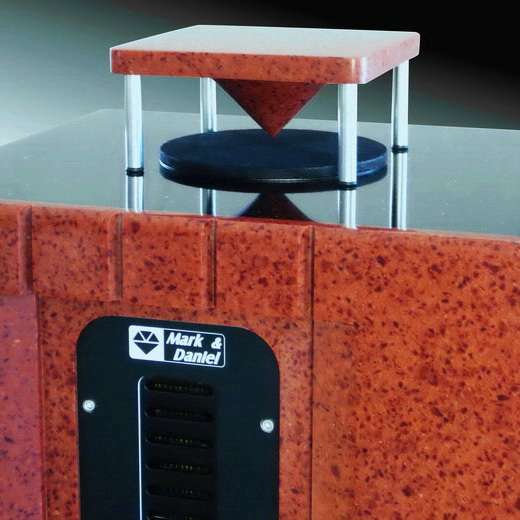 The super tweeter network is connected to the Dreams AMT high frequency network in parallel sharing same pair of (the HF) binding posts. A -6dB to 0dB stepless attenuator allows listener to fine tune the super tweeter¡¯s output to best match the acoustic environment. The Omni-Harmonizers used in the Fantasia-Cello system are the same as the ones on other Mark & Daniel models except for the special cosmetic color.

* Omni-Harmonizer: http://mark-daniel.com/index.asp?ProID=74&table=pr

© The Crossover

A dedicated 12dB/octave hybrid crossover network has been painstakingly aligned to ensure a perfect match between these exceptional high performance drivers. Essential elements such as large 15 Gauge coreless inductors and authentic audio-grade FPP (with 0.06% super low dissipation factor) coupling capacitors have been incorporated into this crossover network to fulfill Mark & Daniel¡¯s very demanding total system approach.

The crossover elements/PCB are isolated and sealed off from the pressurized environment in an independent chamber located on the lower rear side of the main enclosure; the sealed chamber can eliminate potential microphonics and EM interferences which are present in a speaker¡¯s interior.
© Amplification Requirement

Two pairs of high grade WBT® speaker binding posts are installed on the crossover panel for bi-wire or bi-amp configuration. For optimal performance, bi-amplification with high current amplifier delivering power output of 100 to 200 Watts @8 Ohms per channel is recommended. Bi-wiring with single amplifier capable of the same output power is the minimum requirement.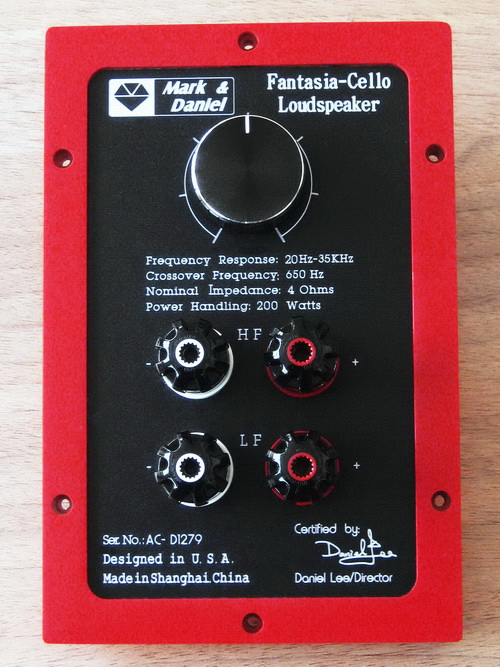 * Bi-amp system: http://mark-daniel.com/index.asp?ID=18&table=faq


© Ease of Setting up and Placement

To properly set up the Fantasia-Cello speaker system, the back-support rack and the temporary spike should first be assembled onto the speaker enclosure. This temporary spike is useful for moving the heavy system around to determine the best location for installation. After the best speaker placement has been decided upon, this temporary spike should then be replaced (with a wrench) by the large stainless steel spike included with each shipping package.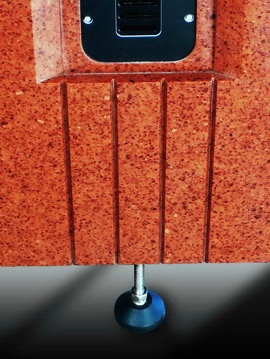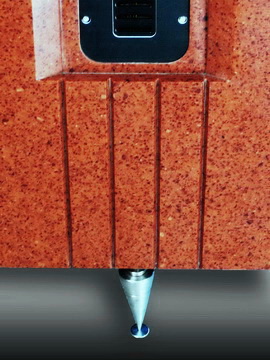 The heights for back-support rack (with two legs) and front spike are both adjustable to the user¡¯s preference. As a general guideline, first to fix the front spike to about 10cm (4¡±) height from floor then tilting the Fantasia-Cello slightly backward is recommended for better sonic effect and placement stability.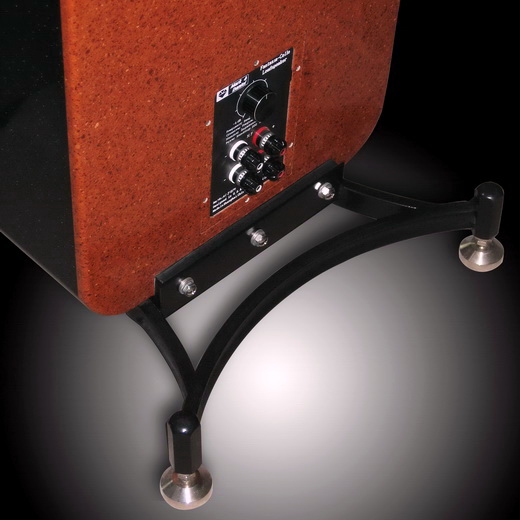 © Made by Order

The Fantasia-Cello loudspeaker system is a limited version that only made by order; production lead time is 120 days from the day of order confirmation. Each pair of Fantasia-Cello is guaranteed to meet Mark & Daniel¡¯s stringent technological specifications, obsessive craftsmanship and uncompromising quality control.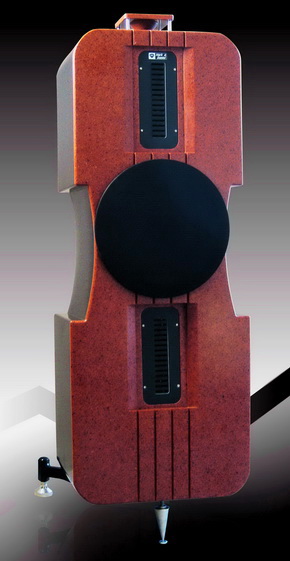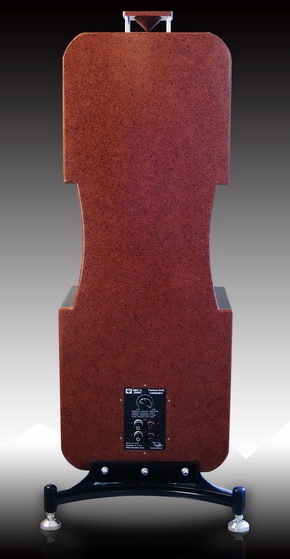 Product Description: Fantasia-Cello floor-standing Speaker
Reference Price: US$22,500/pair
Standard Color: Majestic Granite (MD2201) + Starry Black (MD1423)
Frequency Response: 20Hz-35KHz
Two-way Crossover: 650Hz
Nominal Impedance: 4 Ohms
Average Efficiency: 87dB/2.83V/1m
Power Handling: 200 Watts
Enclosure Material: C.A. Marble Solid Surface
Cello Enclosure Size: W42.0 xD29.9 xH107.0 cm (W16.5¡± xD 11.8¡± x42.1¡±)
Overall Speaker Size: W50.5 xD47.5 xH122.7 cm (W20.0¡± xD18.7¡± xH48.3¡±)
Overall Weight (ea.): 65 Kg (143 lb)