Maximus-Monitor
¡° I could hear deep-sea diving, uncluttered bass right from the start. The mid to high range was crystal clear and transparent, And so coherent¡­ The Maximus reminded me of being in the recording studio during my days; when orchestral music played, I felt like being the conductor, with the full ensemble wrapping around me. The sound stage was wide open and layered like a big onion. Incredible detail and microdynamics ¨C you wouldn¡¯t to search for them, they¡¯d come and get you. This is the most revealing speaker I¡¯ve ever encountered.¡±
- David Kan, Reviewer -
http://www.6moons.com/audioreviews/markdaniel/maximus.html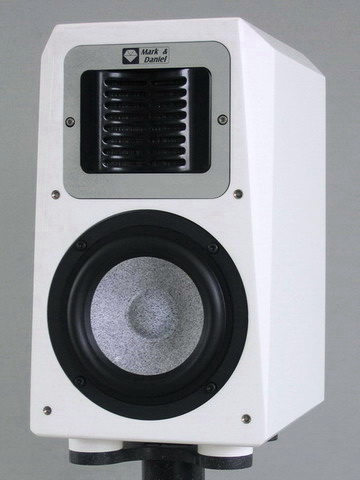 The Maximus-Monitor (for vertical placement) and Maximus-Monitor(H) (for horizontal placement) sound systems are mainly designed to meet the critical requirements for the both Pro Audios and Home Hi-Fi applications satisfaction.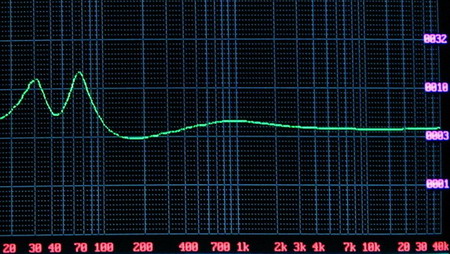 One outstanding 6.5¡± SX woofer is mounted onto a limited-size 13.5L (0.47 cu. Ft) CAM solid surfacing enclosure with the system F3 to go deep down to amazing 38Hz; combined with a pair-matched DM-1 AMT wideband driver to cover 800Hz-22KHz wideband with ¡À30¡ã horizontal dispersion (within 800Hz-8KHz range). Mark & Daniel® has successfully created a remarkable sound product with outstanding clarity, super dynamic output, and true high-end sound reproduction beyond imagination to any compact bookshelf speakers ever made!
The enclosures are very solid and heavy, each weighting 14.7Kg (32 lb); the nominal impedance is 3-6 ohms with average efficiency being 85dB/2.83V/1m. For proper operation, a high current amplifier with 100 watts output (or above) is recommended for the Maximus-Monitor.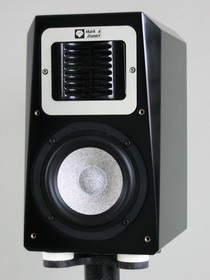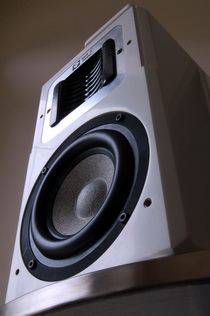 Product Description: Maximus-Monitor Speaker
Maximus-Monitor (H) Speaker
Frequency Response: 38Hz-22KHz
Two-way Crossover: 800Hz
Nominal Impedance: 3-6 Ohms
Average Efficiency: 85dB/2.83V/1m
Power Handling: ¨R 100 Watts per channel
Enclosure Material: CAM solid surfacing
Overall Size: H36.5 xW21.6 xD28.5 cm (V)
H21.6 xW36.5 xD28.5 cm (H)
H14.4¡± xW8.5¡± xD11.2¡±(V)
H8.5¡± xW14.4¡± xD11.2¡±(H)
Weight (each): 14.7 Kg (32 lb)