Ultrumax-Sub-Ia
Super Bass + Amplification System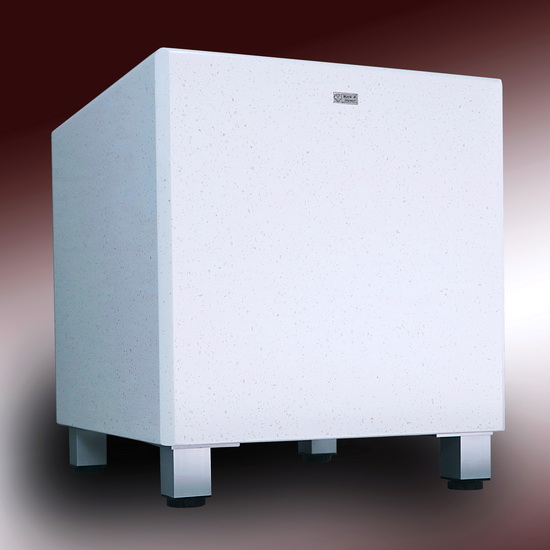 ¡ï Ultrumax-Sub-Ia£¬General
The Ultimax-Sub-Ia is not only a conventional subwoofer speaker suitable for medium and small size rooms; in addition, Sub-Ia is a versatile and cost-effective super bass system designed mainly to properly match with Mark & Daniel¡¯s Ultrumax series products, including:
Ultrumax-U1a, Ultrumax-U2a, Ultrumax-U2a-ST, Ultrumax-Center, Ultrumax-M1, and Ultrumax-M1-ST speakers
plus the features with 2-channel power amplification outputs and multiple selection inputs to provide an excellent flexibility of the system. This elegant Ultimax-Sub-Ia enclosure has been crafted from the handmade, expensive CAM solid surface, very solid and heavy.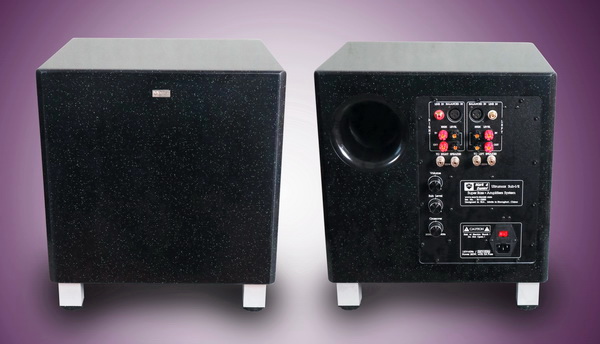 The equipped (Sub-I/IIa) electronic module for Sub-Ia has a 2.1 structure built-in: with one 150 Watts amplifier that sufficient to drive the assembled 10-inch heavy weight woofer, and plus 100Wx2 high quality two-channel digital amplifier outputs that can effectively save the cost in purchase additional power amplifier for customers with economical concerns! The 100Wx2 power outputs are mainly designed to match M&D¡¯s Ultrumax series speakers. The -Sub-Ia is of course, can also be used as a common subwoofer for your existing hi-fi system, or to skip the subwoofer function but using the two-channel power amplifiers only.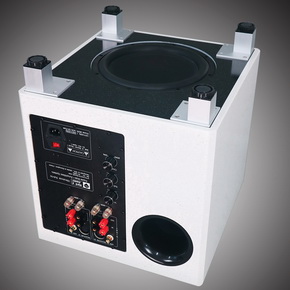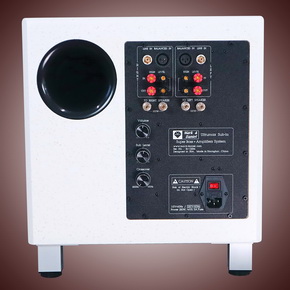 ¡ï Ultrumax-Sub-Ia Enclosure
This elegant -Sub-Ia enclosure is handmade by reinforced, low resonant CAM compound marble enclosure and has the following dimensions: W39.0 xD40.0 xH37.0cm (W15.4" xD15.7" xH14.6"), plus 4 solid aluminum foot pedestals with 6 cm (2.4") height. The enclosure structure is extremely strong and heavy, each Sub-Ia speaker weighs up to 28 Kg (62lb).
One HX-10-0.6 woofer driver weighting up to 4.2Kg and with the giant Ø142x42mm magnets to yield a ¡À8mm (0.6¡±) very high Xmax excursion capability is carefully selected for the -Sub-Ia super bass system. This woofer has been mounted facing-down on the bottom of the enclosure; matching with the build-in 150W high power amplifier can carry down to 33Hz (-6dB) deep bass under the low distortion and high SPL characteristics. Ultrumax-Sub-Ia is suitable for medium-sized audition rooms playback.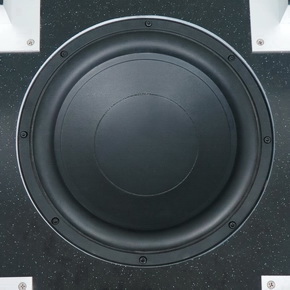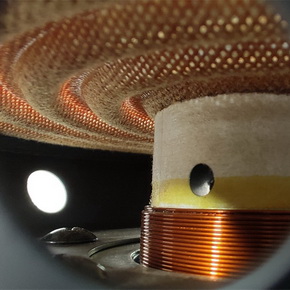 For the Sub-I/IIa electronic module, a special 2.1 amplification structure has been developed for applications onto M&D¡¯s Ultrumax-Sub speaker systems; this electronic module has employed a variety of high-quality components and has designed the versatile structure for flexible connections. Three sets of power amplifier are composed of high performance TPA3116D2 digital power SMT chip + military grade PCB, matching with full-compliant switching power supply and the other quality electronic parts, all together to ensure the required sound quality and system stability.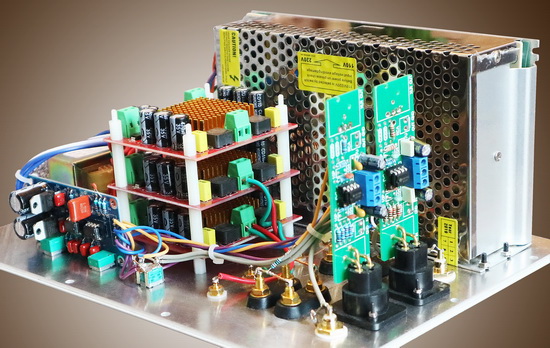 ¡ïSub-I/IIa Electronics Module, Control Panel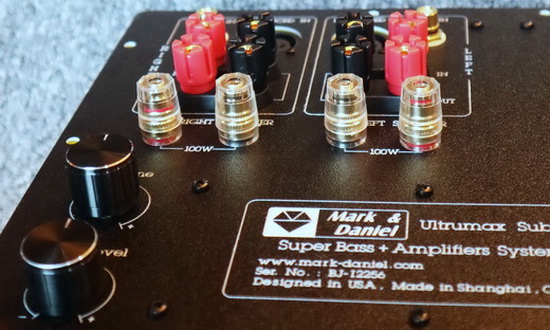 Sub-I/IIa Electronics Module, I/O Section:
When plug-in these connectors with stereo signals, Sub-I/IIa module has configured as a 2.1 powering system; the enclosure itself acts as a super-bass speaker to reproduce the deep bass frequencies lower than 200Hz; full-spectrum stereo signals have then connected to the ¢Ý banana terminals with 100Wx2 output capability in a same time, be able to proper drive M&D¡¯s Ultrumax-U1a, Ultrumax-U2a, or Ultrumax-M1 series speakers to reproduce the music content from 200Hz to 20KHz.
If Sub-I/IIa Module¡¯s ¢Ý power outputs have been used to drive the speakers other than M&D¡¯s Ultrumax -U1a/-U2a/-M1 series speakers; -Sub-Ia is then act as a conventional subwoofer to replay the deep bass for matching with the L/R main speakers (with adjustable crossover frequency from 200Hz to 80Hz).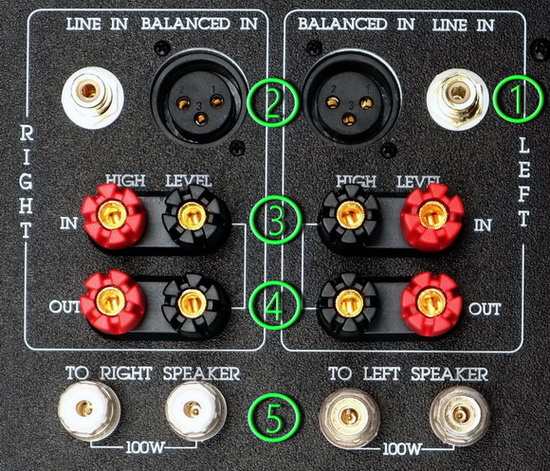 ¢Ù Line In:
- The RCA inputs for the stereo Left and Right channels, mainly connected from the home hi-fi equipment such as pre-amplifier, DVD players, and so forth.
¢Ú Balanced In:
- The XLR inputs for the stereo Left and Right channels through balanced cables, mainly connected from the professional audio equipment, PA system, or some hi-end preamplifier.
¢Û High Level In£¬¢Ü High Level Out:
- When you decide to use your own high-quality amplifier for driving Ultrumax-U1a/-U2a/-M1 speakers; first connect speaker cables from amplifier output to corresponded L/R terminals ¢Û, then use another pair cable to connect Ultrumax-U1a/-U2a/-M1 speakers from the terminals ¢Ü.
- This is the case that Ultrumax-Sub-Ia used as a simple sub-woofer to reproduce deep bass signals lower than 200Hz frequencies; and the power output ¢Ý may be skipped.
¢Ý Left/Right Channel Output£º
- Stereo or two-channel output terminals driven by two build-in high quality 100 Watts digital power amplifiers; connect the corresponded speakers through cables.
Sub-I/IIa Electronics Module, Total Panel: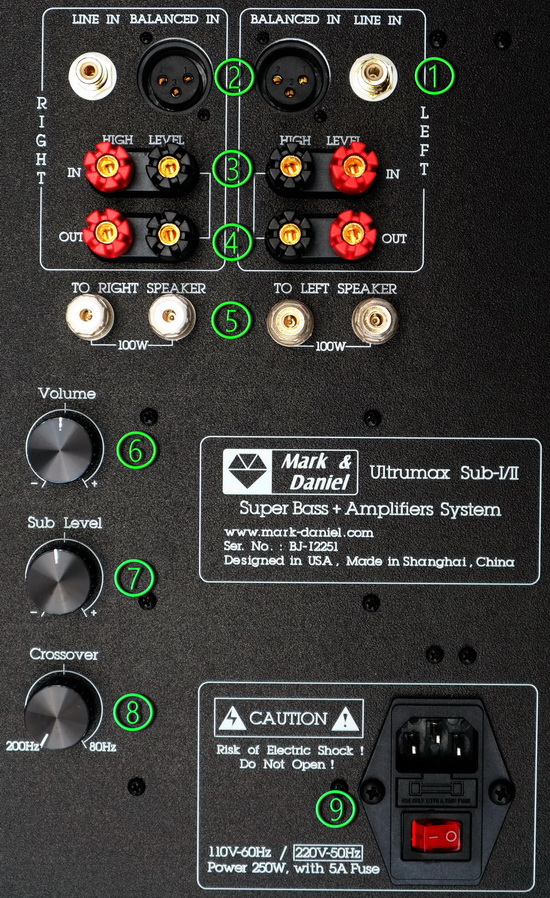 ¢Þ Volume:
- The master volume control for both deep bass reproduction and 100Wx2 outputs in a same time.
- There is a center-point latching function for this Volume knob. Unless the input signal has been unusually low, it is recommended to set this Volume knob at the 12 o¡¯clock point so be able to get a balanced, precision output level.
¢ß Sub Level
- The level controller for Sub-I/II module¡¯s deep bass (under 200Hz) sound output.
- When your purpose of using Ultrumax-Sub-Ia is only to use the 100Wx2 amplification system rather than the function of a subwoofer; all you have to do is to turn the ¢ßSub Level counterclockwise down.
¢à Crossover:
- The adjustable controller of crossover frequency in between 200Hz to 80Hz for the Ultrumax-Sub-Ia super-bass speaker.
- When the -Sub-Ia is used to match with Ultrumax-U1/-U2/-M1 series speakers, please set the Crossover knob around 200Hz (the counterclockwise end).
- If -Sub-Ia is used to connect with your own L/R speakers other than the Ultrumax-U1a/-U2a/-M1 series, carefully tune the Crossover for a best deep-bass matching point (in between 200Hz-80Hz crossover point) to your speakers.
¢á AC Input section:
- This section includes AC power socket, fuse socket (with 3A-5A, Ø5x20mm fuse), and AC power switch; please note there is a mark for 110V or 220V mode of this Sub-I/IIa module, wrongly AC power plug-in may cause the damage and/or malfunction of the equipment!
* Caution: High Voltage hazard!! Do not try to open the electronic module.
* Application Note:
- Based on experiences, most users tend to tune a too strong bass output when initially use a subwoofer speaker, especially while enjoying the AV films; yet for a music playback may not need that exaggerating and unbalanced bass replay, most of audiophiles may feel unnatural and/or uncomfortable for too rich bass reproduction during a true hi-fi auditioning.
- There are many factors for one subwoofer to affect the sound quality during music playback such as for its specific placement in the room, the distance relationship in between the left/right main speakers, careful ¢ß Sub Level setting, precision ¢à Crossover frequency adjustment/selection, etc. In order to get the best sound for Ultrumax-Sub-Ia speaker to match with your sound system, through the long-term audition and careful adjustment is very important.
- User's purpose of the system that required from this super bass reproducer is another major factor to affect the overall performance and sound balance; such as if it is regularly used for true hi-fi music reproduction, is mainly for background music listening most of time, or is used for the AV system to enjoy an audio-visual shock effect, and so forth. In order to obtain the most suitable sound effect for personal needs, it is recommended that to proper mark down your best setting for Sub-I/II control panel¡¯s clock scales (on the master volume, deep bass level, and crossover point) under the different application scenarios.
- Since Ultrumax-Sub-Ia may need fine-tuning according to the application scenario, it is recommended that it be placed in a suitable position easy to access for its control panel.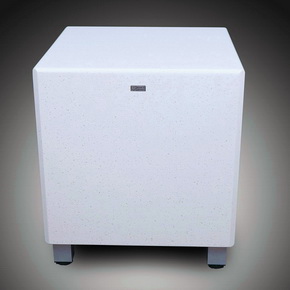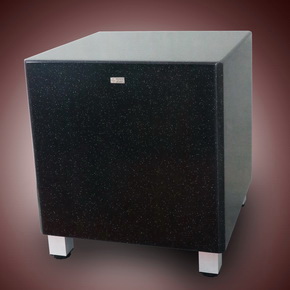 ¡ï Product Specifications:
Product Name: Ultrumax-Sub-Ia, Super Bass + Amplification System
Reference Price: US$ 1,350.0 per unit.
Internal Power Amps: Class-D, 150Wx1 for subwoofer£¬100Wx2 for L/R outputs
Line-level Input Sensitivity: 500mV r.m.s. @ 10K¦¸
Hi-Level Input: 1V r.m.s. @ 10K¦¸
Low Pass Filter for Subwoofer£º 200Hz - 80Hz, Adjustable
Frequency Response: 33Hz ¨C 200Hz
AC Power Input£ºAC 110V 60Hz, or 220V 50Hz as specified
Idle Power Consumption£º¡Ü 10 Watts
Maximum Power Consumption: 250 Watts£¬continuous
Enclosure Material: Compound Artificial Marble
Standard Colors: - Phantom White (Code: MD-1011)
- Starry Black (Code: MD-1423)
Enclosure Size: W39 x D40 x H 37cm £¨W15.4¡±xD15.7¡±x14.6¡±£©
Overall Size: W39 x D40 x H 45cm £¨W15.4¡±xD15.7¡±x17.8¡±£©
Total Weight: 28Kg (62lb)
* Remark£ºAC power cord is not included due to the different AC socket standards