Fantasia-S Sound System
Bluemoon Award Winner on:
¡°First impressions were ultra promising¡­ The most pleasant quality was its built-in tonefulness. The greatest asset was magnificently dynamic contrast resolution at already very low levels, unbelievably even yet approached subwoofer territory on extension and articulation. It¡¯s more integrated. It¡¯s more natural, assured, seamless¡­ It does make the Fantasia a ¡°what more could you possibly use¡± deal¡­ To my mind, this makes it a reference and flagship speaker in every facet of the meaning.¡±
- Srajan Ebaen, Publisher & Chief Editor, 6moons.com -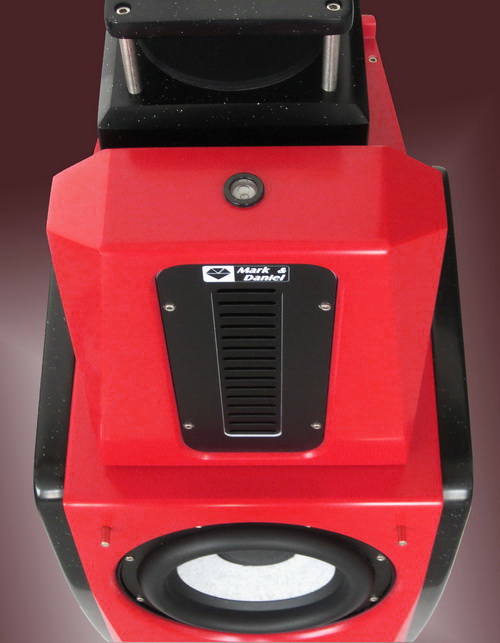 The Fantasia-S sound system is the most advanced, high-end floor-standing speaker designed and engineered by Mark & Daniel® using all of their pioneering concepts and state-of-the-art technologies. It is a truly exceptional system with stunning output and unparalleled high definition reproduction capability. Nothing comes close to the Fantasia-S speaker in terms of sound performance, cost/performance to value, as well as complete systems integration!
The Fantasia-S speaker system is crafted as a two-way plus one omni-directional super tweeter, featuring a low 650Hz crossover and super low Frequency Modulation Distortion (FMD) index for true hi-fi reproduction. The Fantasia-S sound system not only includes those unique features found exclusively on the other M&D product lines; it also establishes yet another set of audio milestones based on these advanced concepts:
♥ Modularized chambers for the speaker¡¯s SX woofer, Dreams AMT driver, Omni-Harmonizer super tweeter, and the crossover network, to ensure absolutely unparalleled and vibrantly clean sound reproduction without interference from one drive to another.
♥ Optimized sound engineering for each unique module to achieve systems integration; and with adjustable toe-in design for the Dreams module makes speaker placement very easy.
♥ This complex sound system is crafted from costly compound marble (CAM) which creates rock solid enclosures, completely hand-made, with every detail painstakingly cared for and addressed; Indeed, The Fantasia-S is an amazing work of Art!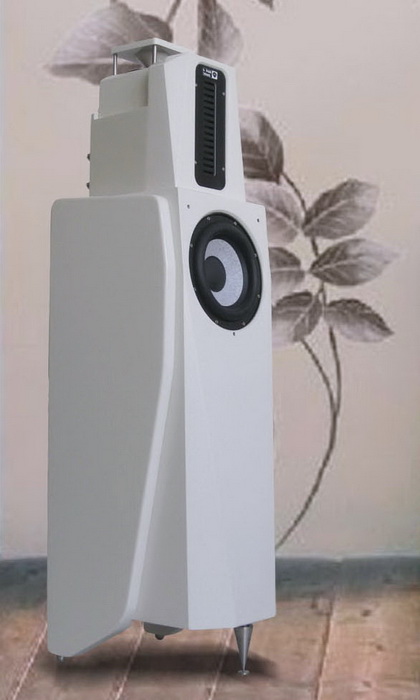 SYSTEM STUCTURE:
Three dedicated modules have been appropriately integrated to complete this unique Fantasia-S (Synergy for the -S suffix) sound system as a whole:
♥ The Fantasia-S Bass Module: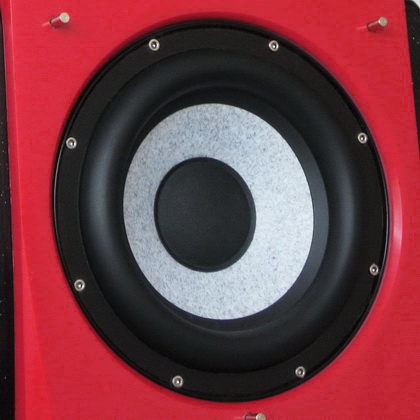 - Never before! A daring breakthrough in the contemporary hi-fi industry, this middle-sized Fantasia-S speaker employs only one 8¡± woofer yet is sufficient to fill rather large listening rooms with high dynamic output capability and heavy deep bass sound reproduction. In this amazing Fantasia-S speaker, we are talking about true, tight bass reproduction derived from a passive speaker system with a natural sound roll-off down to amazingly low 28Hz response, ¡°squeezed¡± from such a small woofer without requiring the help of an additional built-in amplifier or any artificial electronic equalization!
- This exceptionally powerful 8¡± woofer features M&D¡¯s unique Super Xmax plus QMA (Quantified Magnets Alignment) technology, enabling a spectacular, unparalleled ¡À18 mm (1.4¡±) linear excursion that enough to properly handle any critical requirements for a dynamic bass reproduction. The SX8.0a-1.4 super woofer has been assembled onto the front panel of the Fantasia-S Bass Module; thus, is enables the Fantasia-S to produce stunning bass reproduction amplitude (under very high SPL output), frequency (for system F3 response down to 28Hz), and full Q-control (throughout the complete reproduction range), all of which have been optimized by this amazing Bass Module.
- In order to properly handle the enormous sound pressure created by the SX8.0a-1.4 woofer, crafted by the precious CAM solid surfacing, the stylish Fantasia-S Bass Module is extremely solid and strong; each bass module weighs 55kg (121 lb) and measures W30cm xD37cm xH85cm (W11.8¡± xD14.6¡± xH33.5¡±).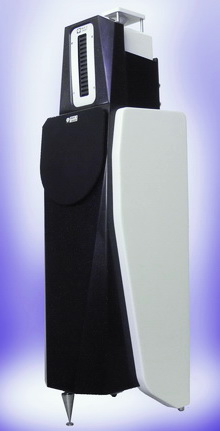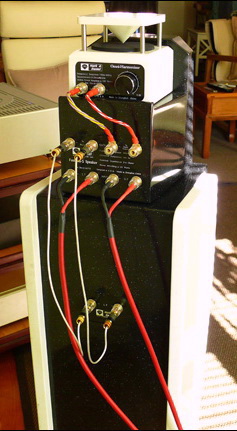 - The Bass Module is elevated from the floor by 10cm (4¡±) in height; this space is not only necessary for the large vented port on bottom of the module; the unique shape of the Bass Module is also enables the rich, clear deep bass to radiate throughout the listening room with less unnecessary standing waves.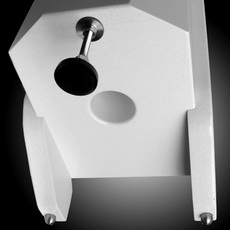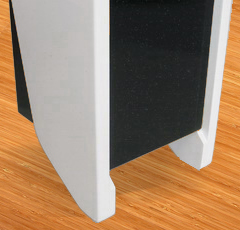 - When the Fantasia-S speaker arrives to the customer, a temporary spike is assembled onto the Bass Module which is useful for moving this heavy module around to determine the best location for installation; after the best speaker placement has been decided upon, this temporary spike should be replaced (with a wrench) by the large stainless spike included with each shipping package.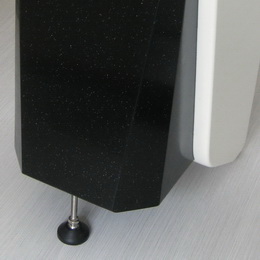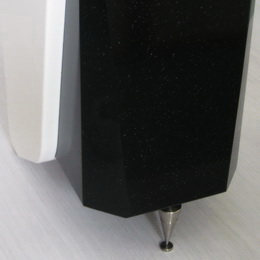 ♥ The Fantasia-S Dreams Module: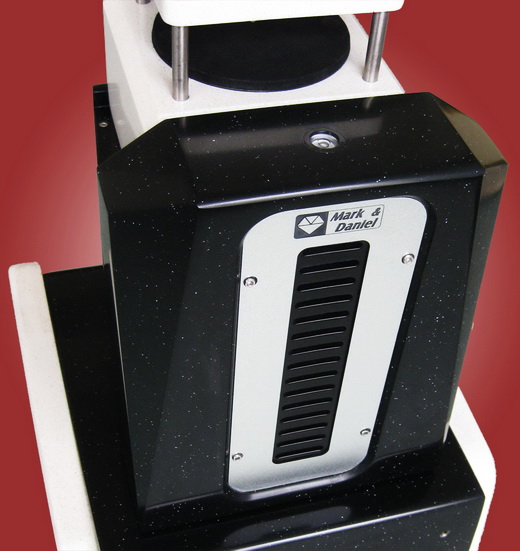 - The Fantasia-S Dreams Module is also the core which links the complete system together:
¡ã On the front side of the module, there is an independent chamber for mounting the wide band Dreams AMT driver.
¡ã On the rear side of the module, the speaker input/output posts have been installed on the back panel with an independent chamber containing the crossover network inside.
¡ã A large silicon ring is assembled beneath the module to firmly place the Dreams Module onto the Bass Module¡¯s top; by such a simple yet effective structure, the toe-in of the Dreams Module may also be simply adjusted for precision speaker placement during the initial audition or the lately fine tunings upon listening.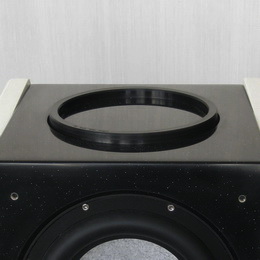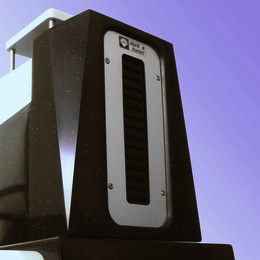 ¡ã An Omni-Harmonizer super tweeter is designed then, to fit properly on the top platform of this module.
- Responsible for a range of 650Hz up to 20KHz, M&D¡¯s newly DM-5a Dreams AMT driver ), made with super-thin (0.0125mm) polyimide diaphragm and pair-matched, is mounted on the front panel for a 5-Octaves wide band range which virtually guarantees true hi-fi reproduction and enables the Fantasia-S system to cover the complete mid to high frequency band from one single driver for unparalleled sound clarity and detailed resolution.
- Advanced concept of an external crossover-network has been applied to the Fantasia-S sound system so that the crossover-network is installed into an independent chamber on the rear side of the module; the crossover elements are totally isolated from the pressurized environment. This arrangement completely eliminates potential microphonics which are present in a speaker¡¯s interior.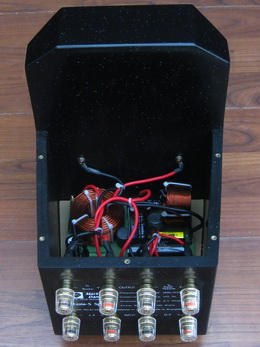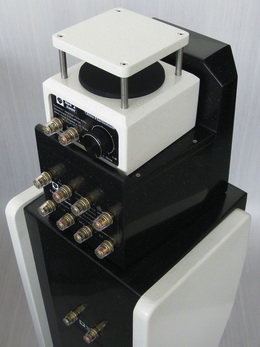 A dedicated, hybrid 12dB/octave crossover network that used for perfect matching with these outstanding drivers has been painstakingly aligned; essential elements such as large 15 Gauge coreless inductors, and a true audio-grade FPP (with 0.06% super low dissipation factor) coupling capacitor have been incorporated into this speaker to fulfill the system demands.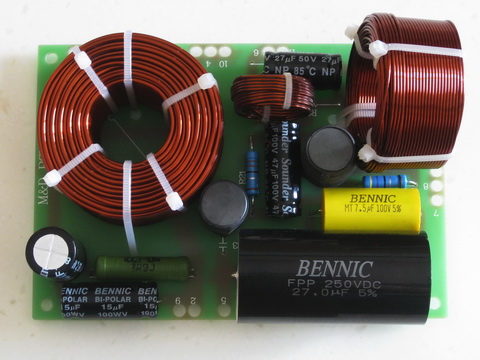 - On the back panel, there are two pair of lower speaker terminals for the bi-wire inputs (LF input on the left, and HF input on the right) from the amplifier; for proper operation, a high current amplifier with 100 Watts (@8 Ohms) output per channel connected with bi-wire speaker cables or two pair of speaker cables is the minimum requirement to properly drive the Fantasia-S. For better sound performance, two amplifiers configured for bi-amp driving system is preferable.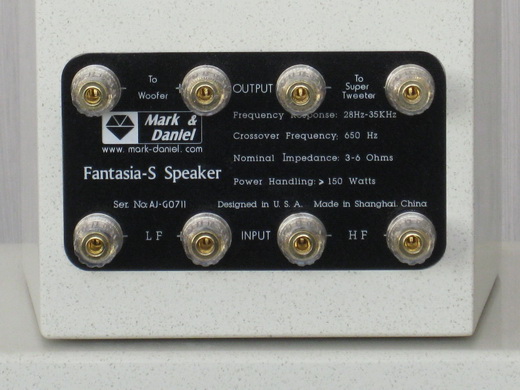 The upper left posts are internally connected with the crossover network output for one pair of cables to connect with the woofer on the back of Fantasia-S Bass Module; the upper right posts are parallel to the HF input posts so that another pair of cables is used to connect with the Omni-Harmonizer super tweeter.
- The stylish Fantasia-S Dreams Module has been built from solid and heavy marble for steady placement; each module weighs 9.5kg (21 lb) and dimensions are: W20cm xD23cm xH25cm (W7.9¡± xD9.1¡± xH9.8¡±).
♥ The Omni-Harmonizer: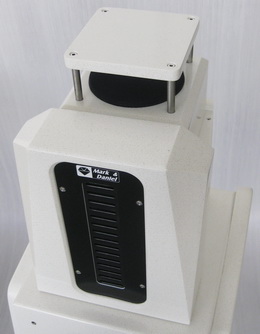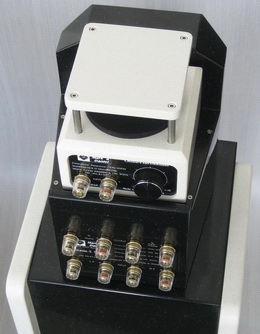 An omni-directional super tweeter, designed to respond to musical high frequency harmonics, from 7KHz up to 32KHz has been installed on the Dreams Module¡¯s platform to create a vivid High Frequency sound stage for this exceptional sound system; the Omni-Harmonizer used to complete the Fantasia-S is the same as the others except for its special cosmetic color.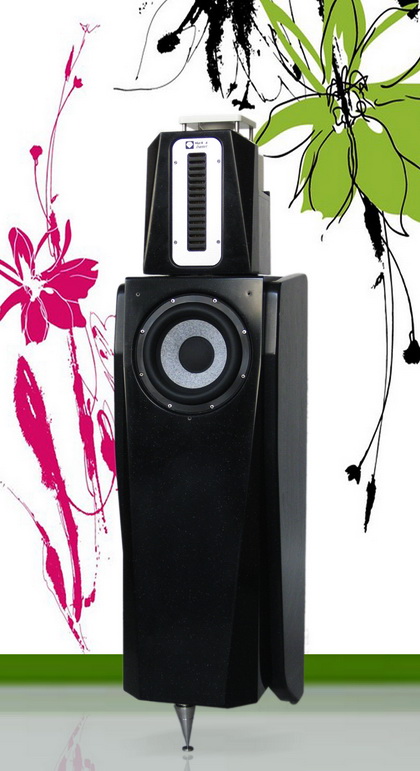 Product Description: Fantasia-S speaker system
Reference Price: US$ 16,000/pair
Standard Color: Color options:
- Phantom White (Code: MD1011)
- Starry Black (Code: MD1423)
- Starry Black + Phantom White
* Special colors are under request
Frequency Response: 28Hz-32KHz
Two-way Crossover: 650Hz
Nominal Impedance: 3-6 Ohms
Average Efficiency: 86dB/2.83V/1m
Power Handling: 150 Watts
Enclosure Material: CAM solid surfacing
Overall Size: W30.0 xD37.0 xH120.0 cm (W11.8" xD14.6" xH47.2")
Total Weight (each): 67 Kg (148 lb)