Muse-Mini+
Floor-standing Speaker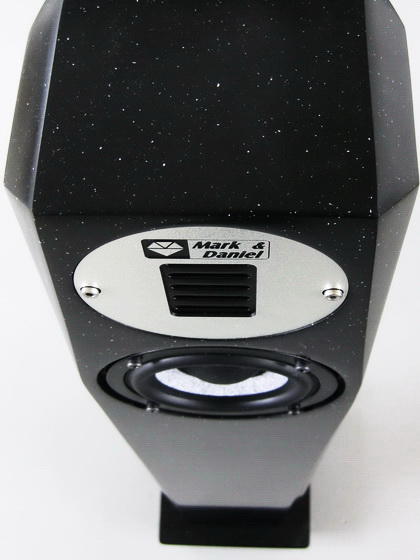 The Muse-Mini+ speaker is a small, floor-standing version of his Mini speakers which M&D® has modified directly from the successful Maximus-Mini+ miniature bookshelf speaker, providing audiophiles with another entre' into M&D's premium Plus (+) series products.
The compact size and stunning sonic performance of the Muse-Mini+ floor-standing speaker enables it to be used in small rooms where a full range, high fidelity speaker is desired, where space is at a premium, and where cost savings are also a concern, as the Muse-Mini+ tower eliminates the expense of an additional speaker stand. The Muse-Mini+ is also a good choice to use as surround speakers for Home Theater systems to enable audiophiles to enjoy true high fidelity sound from an incredibly small package.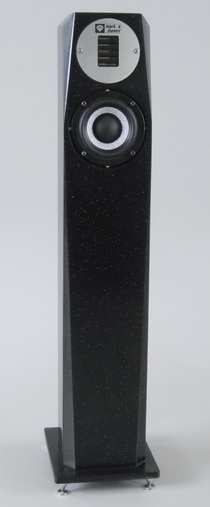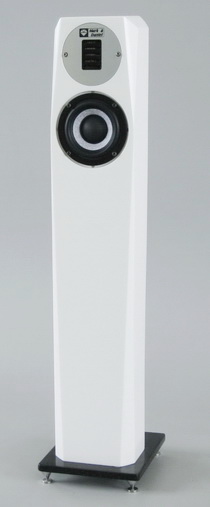 The two-way, bi-wired Muse-Mini+ speakers feature one DM-2a Dreams AMT super tweeter with the exclusive 0.0125mm super-thin diaphragm design. The DM-2a driver is installed on the front panel to cover a very wide audio range from 950Hz up to 35KHz. This Air Motion Transformer transcends an amazing 5-octave bandwidth for superb detail and impressive dispersion characteristics.
M&D's unique QMA (Quantified Magnetic Alignment) design provides unparalleled ±9.0mm (0.7") bass cone excursion. This superb SX 4.0 woofer has been crafted into the Muse-Mini+ speaker, creating stunning bass reproduction. Every necessary parameter to insure outstanding bass response and full Q-control have been optimized within the Muse-Mini+ miniature floor-standing enclosure.
Not counting the bottom platform, the miniature Muse-Mini+ has super-slim dimensions: H75cm (29.5"), x W14.2cm (5.6"), x D9.6cm (3.8"). The specially shaped enclosure is angled slightly towards listeners for more accurate sound axis correction. A compound marble enclosure with a diamond shaped panel effectively reduces sound diffraction interference while enhancing the aesthetically pleasing design.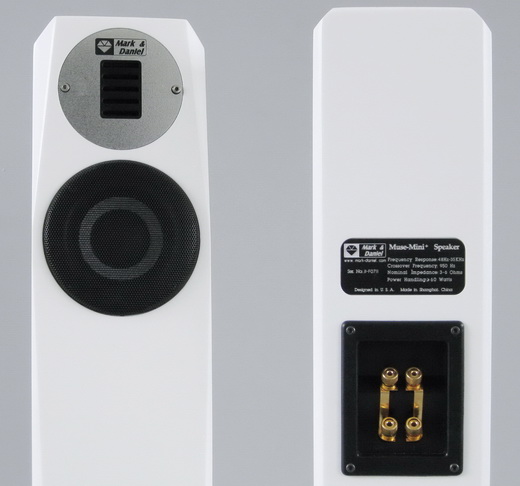 The Muse-Mini+ is very solid and heavy, each weighing 10.5 Kg (23 lb) for this relatively small cabinet.
The Muse-Mini+ speaker is equipped with a metal grille on the front panel for proper protection of the woofer. Due to the high porosity of the grille, and because the woofer only extends to the mid-bass range, the grille's interference with sound reproduction is negligible. Therefore, it is not necessary to remove the grille from the panel during use.
The nominal impedance is 3-6 ohms with average efficiency being 82dB/2.83V/1m. A power amplifier with 60 watts per channel minimum is recommended to properly drive the

Muse-Mini

+ speaker. If possible, two mid-power amplifiers configured in a bi-amp playback system can significantly improve the sound quality during reproduction.
Product Description: Muse-Mini+ Floor-standing Speaker
Standard Colors: - Solid White (Code: MD1002)
- Starry Black (Code: MD1423)
*
Special colors are under request
Frequency Response: 48Hz-25KHz
Two-way Crossover: 950Hz
Nominal Impedance: 3-6 Ohms
Average Efficiency: 82 dB/2.83V/1m
Power Handling: ≥60 Watts
Enclosure Material: CAM solid surfacing
Enclosure Size: H75.0 xW14.2 xD9.6 cm (H29.5" xW 5.6" xD 3.8")
Size with Base: H78.5 xW 18.0 xD20.0 cm (H30.9" xW7.1" xD 7.9")
Weight (each): 10.5 Kg (23 lb)