Ultrumax-Sub-IIps
The Passive Super Bass Enclosures
The paired Ultrumax-Sub-IIps deep bass enclosures with meticulously design are not the conventional passive-mode subwoofers but also can be used as a part of the main/left or main/right, full-spectrum floor-standing speakers for deep bass playback and as the flagship combination to support Ultrumax's premium grade M-series monitor speakers, including:
Ultrumax-M1, Ultrumax-M1-ST, Ultrumax-M2-ST
on each enclosure's top in a same time. The application of Ultrumax-Sub-IIps is suitable for medium and large audition rooms.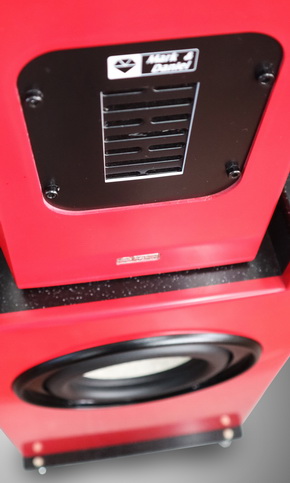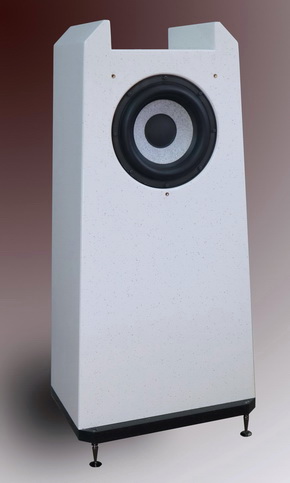 This stylish design, handmade by reinforced low resonant CAM compound marble solid surface enclosure; Ultrumax-Sub-IIps is designed as the high-end version, passive-mode deep bass speaker among the Ultrumax subwoofer products that dedicated mainly to critical and demanded audiophiles. The major difference in between -Sub-IIps and the above -Sub-IIph is, the Sub-IIps version has employed M&D's famous 8-inch Super Xmax woofer with exclusive patented SX (super linear excursion) technology plus its matching crossover network installed inside. The Ultrumax-Sub-IIps enclosure has therefore outstanding performance in the deep bass quality during sound reproduction and the ability to regenerate a very high SPL sound level to proper match with M&D's premium Ultrumax-M1, -M1-ST, or -M2-ST monitor speakers.
For system optimization, the matched Ultrumax-M1/M1-ST/M2-ST monitor speaker's crossover point has been raised from the original 190Hz up to 350Hz while connected with the -Sub-IIps enclosure in order to further improve for a balanced system performance and SPL output capability. The speaker terminal on the backside of enclosure has two sets of banana sockets, the lower (LF +/-) set is used to connect with your power amplifier through a speaker cable; and the higher (HF +/-) set with a matching network inside that be able to raise the crossover point from 180Hz up to 350Hz, is to connect with Ultrumax-M1, -M1-ST, or -M2-ST monitors by a pair of speaker cable then.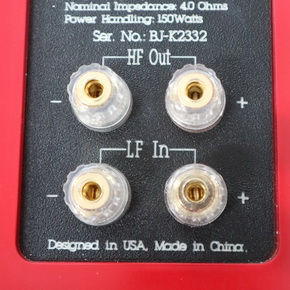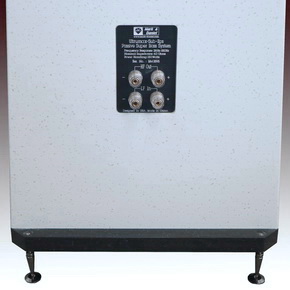 Ultrumax-Sub-IIps enclosure has carefully assembled one M&D's exclusive 3.5 Kg SX-8.0 eight-inch heavy bass driver on its panel. This SX8.0q-1.4 driver has an amazing Xmax linear excursion way up to ±18.0 mm, which can regenerate a true low frequency down to 30 Hz (-3dB, F3) with high bass quality and low distortion, as well as unparalleled powerful sound pressure so be able to meet the critical requirements from serious audiophiles, for medium to large audition rooms. Ultrumax-Sub-IIps has a large vented port on bottom of the enclosure and the enclosure is elevated 5cm (2") off the ground with high spikes so enables the rich, clear deep bass to radiate throughout the listening room with less unnecessary standing waves, and may also take the advantage of speaker system placement.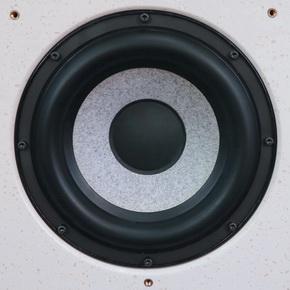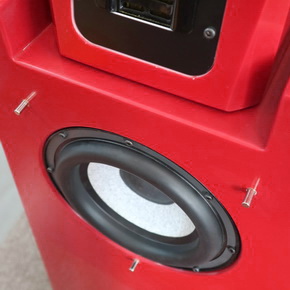 It is quite easy to proper place the Ultrumax-M1/-M1-ST/-M2-ST speakers firmly onto the -Sub-IIps enclosure's top. First to insert the attached short metal bar into -Sub-IIps enclosure's top tray, then place Ultrumax-M1, -M1-ST, or -M2-ST unit insert onto the metal bar through its bottom tray; please note that before the insertion, two industrial O-rings should be sleeved to the metal bar's two ends from about 1cm (0.4") distance, then smoothly do the insertions to ensure a firm and steady installation for this Ultrumax floor-standing speaker system, as shown on the photo.
This stylish -Sub-IIps has the following dimensions: W40 xD30 xH84cm (W15.7" xD11.8" xH33.1"). This enclosure structure is extremely strong and heavy, each -Sub-IIph enclosure weighs up to 37Kg (81 lb). The total height of this floostander as a whole when place Ultrumax-M1 monitor on enclosure's top is 108cm (42.5"), the height is 114cm (44.9") when placed Ultrumax-M1-ST monitor on it, and the total height is up to 128cm (50.4") when connected with Ultrumax-M2-ST on it then.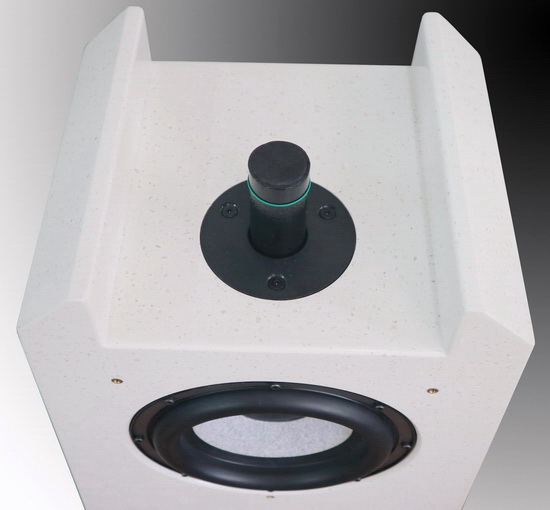 ★ Product Specifications:
Product Name: Ultrumax-Sub-IIps, Passive Super Bass Enclosure

Reference Price: US$ 4,800/pair.
Frequency Response: 28Hz – 350Hz
Nominal Impedance: 4 Ohms
Power Handling: ≥150 Watts
Standard Colors:
- Phantom White (MD-1011) enclosure
- Starry Black (MD-1423) enclosure
- Phantom White (MD-1011) + Starry Black (MD-1423)
- Please contact us for other special colors
Enclosure Overall Size: W40 xD30 xH84cm (W15.7" xD11.8" xH33.1")
Enclosure Weight: 37kg (81 lb)
* Remark:
For critical audiophiles in pursuit of "absolute sound", depending on the room size, we recommend you to test and audition the following perfect match:
Ultrumax-M1-ST + Ultrumax-Sub-IIps
or
Ultrumax-M2-ST + Ultrumax-Sub-IIps
this M&D's high-end and cost-effective combination, with its unparalleled sound quality, is capable to challenge any top-notch speakers to the market; and it is also a milestone to meet Mark & Daniel's definition and expectation of "The Sound for Tomorrow"!