Maximus-Monitor+
The successful development to Maximus-Monitor+, as one major representative speaker on the premium Plus(+) series product lines; Mark & Daniel is again, demonstrating to the world that he has accomplished another major achievement with leading technologies to hi-fi industry.
After long research, having uniquely developed the super-thin diaphragm craft on his Dreams-a drivers and incorporated the new QMA design on the SX woofers, the Maximus-Monitor+ speaker has proven how a bookshelf speaker is possible to create a true, huge sound and unparallel performance with a small enclosure that comparable, even superior, to most of inexpensive floor-standing speakers; a great innovation by M&D again, to challenge the mission impossible!
Only one-half thickness over the conventional substarte materials, a 0.0125mm super-thin polyimide (Kapton) as new diaphragm¡¯s substrate has been sucessfuly crafted to consititude the DM-1a Dreams AMT driver. Due to the lighter moving mass of ribbons to Dreams-a diaphragm, HF response (from the original 22KHz up to 25KHz), transit response, and detailing resolution may futher be improved; on the other hand, this substrate with higher compliance to the pleated diaphragm has also significanly extended the low-end frequency response of Dreams one step down; the two-way crossover point has been dropped from the original 800Hz down to lower than 700Hz!
Ranged from 700Hz up to 25KHz, amazingly for over 5-octave wideband reproduction has been achieved by this single DM-1-a driver on Maximus-Monitor+ speaker! Uniquely low 700Hz crossover point on this two-way bookshelf speaker is not only further aparting from the most sensitive (800Hz-4KHz) mid-frequency range for human ears, but also significantly helps for a low FMD (Frequency Modulation Distortion) reproduction to the incorprtated SX woofer. Maximus-Monitor+ is therefore, capable to reproduce the sound with absolute transparency and clarity that audiophiles have ever been experienced, upon such a bookshelf speaker!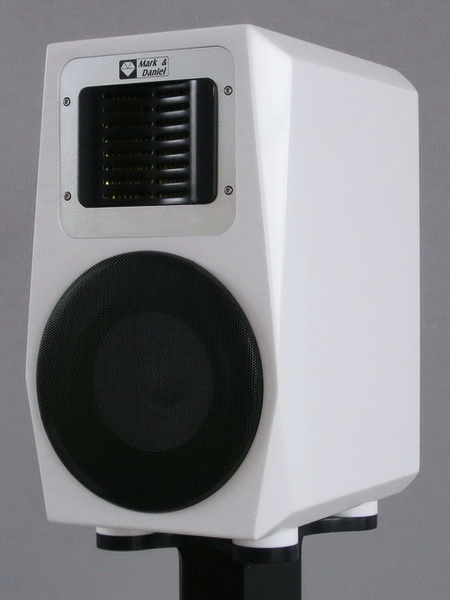 On the other hand to the new 6.5¡± SX woofer with M&D¡¯s uniquely QMA (Quantified Magnets Alignment) design, having definite unparellel ¡À12.5mm (1¡±) Xmax excursion, the SX6.5q-1.0 woofer has been assembled onto Maximus-Monitor+ speaker; a stunning deep bass reproduction on amplifude (under very high SPL output), frequency (for system F3 down to an amazing 38Hz), and full Q-control (along with the complete excursion range) have been optimized.
A 12dB/oct crossover network for perfect matching with these outstanding dirvers has been painstakingly designed for Maximus-Monitor+ speaker; essential elements such as the large Gauge 15 coreless inductor, audio-grade FPP (with 0.06% dissipation factor) coupling capacitor have been incorporated on the PCB for fulfil best system demands.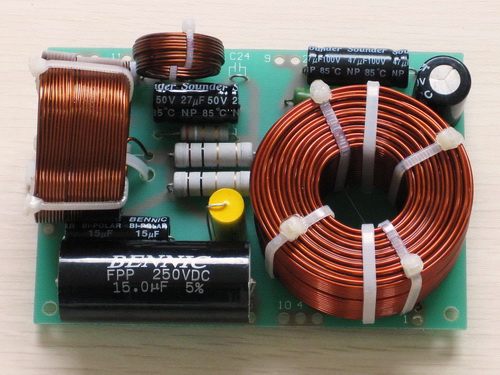 Maximus-Monitor+ has the dimensions: H36.5cm (14.4¡°) xW21.6cm (8.5¡±) xD28.5cm (11.2¡°); a rein-forced compond marble enclosure with the diamond shaped panel for effectively reducing the diffractional sound interferances and for aethetic design, is extremely solid and heavy that each weighting up to 15.3 Kg (34 lb). The nominal impedance is 3-6 ohms with average efficiency being 85dB/2.83V/1m.
Maximus-Monitor+ speaker has equipped an iron grille on the panel for proper protections to the woofer; due to the high openness to the grille plus the woofer is only working to the mid-bass ranges, the influence to sound reproduction by the grill is negligible. Therefore, the grille is not necessary to be taken out from the panel during auditions.
For proper operation, a high current amplifier with 100 Watts output per channel connecting with the bi-wire cable is the minimum requirement for driving the Maximus-Monitor+. For better sound performance and cost saving, two mid-power (35-60 Watts) amplifiers can be configured as the bi-amp playback system, is recommended by M&D.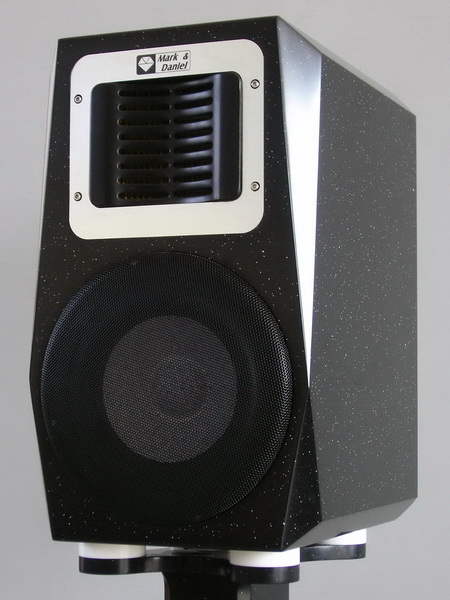 Product Description: Maximus-Monitor+ Speaker
Standard Colors: - Solid White (Code: MD1002)
- Starry Black (Code: MD1423)
*
Special colors are under request
Freuency Response: 38Hz-25KHz
Two-way Crossover: 700Hz
Nominal Impedance: 3-6 Ohms
Average Efficiency: 85dB/2.83V/1m
Power Handling: 100 Watts
Enclosure Material: CAM solid surfacing
Overall Size: H36.5 x W21.6 xD28.5 cm (H14.4¡±xW8.5¡±xD11.2¡± )
Weight (each): 15.3 Kg (34 lb)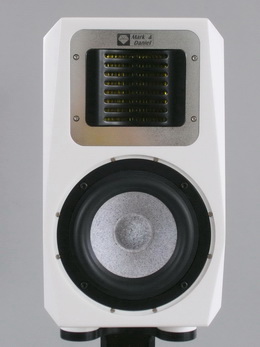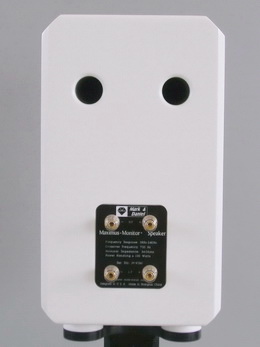 Maximus-Monitor+(Dir)
This special version Maximus-Monitor+(Dir) speaker, it has no difference with the standard Maximus-Monitor+ speaker in the general structure and specifications except without the crossover network built inside of the enclosure; this two-way system, the DM-1a Dreams driver and the 6.5¡± SX woofer have been directly connected to the bi-wire binding posts at the back side of speaker.
Maximus-Monitor+(Dir) speaker is therefore, a very good choice for sound up-grading project such as to be connected with your own external crossover network, with the active crossover amplification system, or to be directly linked with the advanced DSP system for loudspeaker correction in different environment.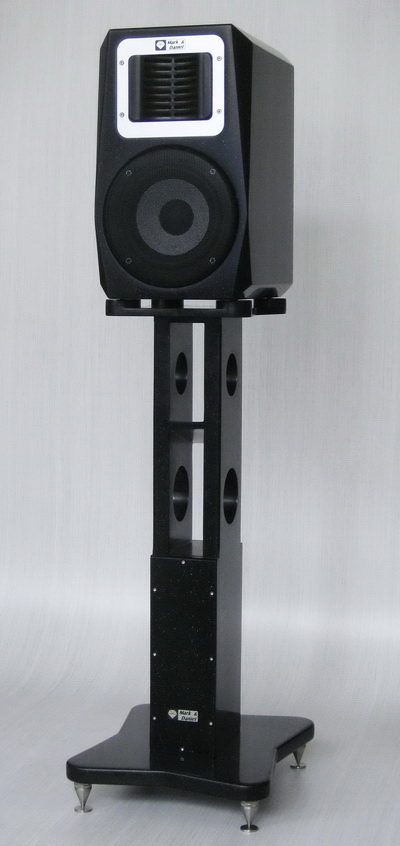 Depending on applications, Mark & Daniel has specially designed an External Crossover box or the Maximus-Stand-dir speaker stand, as the optional ancillaries for customers to match with their premium Maximus-Monitor+(Dir) speakers, while needed.